Man jailed for Bordesley Green shed body murder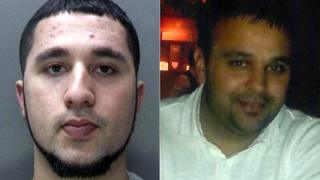 A man has been jailed for the murder of a man whose body was found with more than 120 knife wounds, wrapped in plastic sheeting in a shed.
Akbar Khan, 20, of Carlton Road in Bordesley Green, Birmingham, admitted luring Zafran Nawaz to an unoccupied house and stabbing him.
Khan called 999 straight afterwards but police did not find Mr Nawaz's body until two days later.
The Independent Police Complaints Commission is investigating the delay.
Det Insp Warren Hines said: "Most of the stab wounds of which there were in excess of 120 were to the back and the back of the head.
"There were also injuries consistent with dog bites to the victims arms and legs. Despite the number of injuries, none was such that it would have caused instant death or incapacitation".
Khan was told at Birmingham Crown Court he will serve at least 20 years in jail.