First Syrian refugees arrive in Birmingham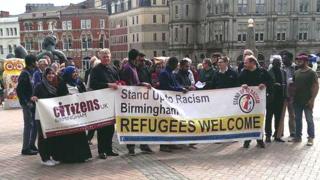 The first nine Syrian refugees who will be rehomed in Birmingham have arrived in the city.
They are a family of four, a couple and three individuals. Their refugee status was officially confirmed before their arrival.
Birmingham has agreed to take in 50 refugees from camps in Turkey and Lebanon under a United Nations and Home Office backed scheme.
The charity Refugee Action is helping them settle in.
Updates on this story and more from Birmingham
About the Syrian Vulnerable Persons Relocation Scheme (VPR)
It prioritises people requiring urgent medical treatment, survivors of torture and violence and women and children at risk
All applicants are subject to immigration checks and screening before a visa is granted
Those with a criminal past or links to war crimes or extremism are excluded
Those accepted are given leave to remain for five years with full access to employment and public funds
At the end of five years if they have not been able to return to Syria, they may be eligible to apply for settlement in the UK
Source: UK Home Office
Stephen Hale, chief executive of Refugee Action, said his organisation would support the refugees with practicalities such as registering with a GP and enrolling children in local schools.
"Longer term, and in partnership with local groups and other charities, we will empower refugee families and individuals to properly integrate within their local communities; enabling them to rebuild their lives in dignity."
Shafique Shah, from Birmingham City Council, said: "What is happening in Syria is a human catastrophe and it is only right that we play our part in offering shelter and a new life to people who are fleeing for their lives."