Emily Clarke, 12, spends pocket money on refuge presents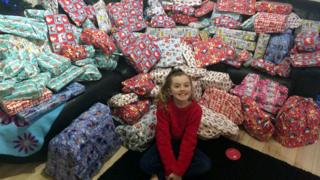 A 12-year-old girl who spent the past year buying gifts for children who would otherwise go without has given 200 presents to a women's refuge.
Emily Clarke, from Bloxwich in the West Midlands, used her pocket money to buy two items a week and also appealed on Facebook for people to donate their unwanted gifts.
She came up with the idea while opening her Christmas presents last year.
"I just thought it's not fair that kids don't get stuff," Emily told the BBC.
Updates on this story and more from the Black Country
"It was when I was opening my presents last year that I came up with the idea. I've got Frozen jigsaws, and Peppa Pig picnics, toy cars and everything - and some makeup.
"It makes me feel proud that other kids are going to be happy."
Emily's kindness has attracted praise on social media, with friends and strangers extolling her generosity.
Donna Neale wrote: "What a lovely kind thing to do." She added that Emily was "an inspiration to others".
Pam Brini Jervis posted: "Well done Emily you are an absolute star to do that, you deserve the biggest present yourself for having such a kind heart." She praised her parents for "raising such a loving and caring little girl".
"Awww, a few kids and adults I know could learn a valuable lesson from you love. You are totally an inspiration to everyone," wrote Pamela Leeks.
The presents have been taken to an unnamed refuge in Walsall.