Birmingham landlord fined for evicting woman and son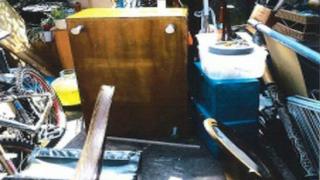 A landlord who left his tenants' belongings in their garden has been fined for illegally evicting the mother and her 11-year-old son.
Sead Alimajstorovic, 38, of Bordesley Green, Birmingham, carried out a threat of changing the locks at the Kings Heath home in July.
After the tenant regained access via a locksmith, he arranged for the locks to be drilled out, the city council said.
At Birmingham Magistrates' Court, the landlord admitted unlawful eviction.
Updates on this story and more from Birmingham
Alimajstorovic was fined £1,035, with £4,044.75 costs. He was also ordered to pay a victim surcharge of £104, at the hearing on Monday.
The landlord had given the woman a note saying she was not allowed to move back into the house and that her belongings were in the garden and shed.
John Cotton, Birmingham City Council's cabinet member for neighbourhood management and homes, said: "When relationships break down between and landlords and tenants, there are strict legal processes that have to be followed.
"Unfortunately, despite being advised by council officers as to the correct procedures, Mr Alimajstorovic instead chose to harass his tenant and her son by interfering with the locks and removed their property and put it in the garden.
"This took place as her son neared the end of his primary school life.
"It should have been a time for celebration but was instead a time of fear and instability."