Wolverhampton bin fires spark gas leak evacuations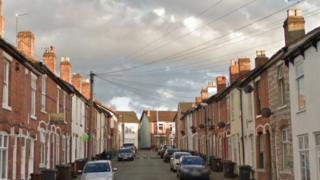 A string of bin fires spread to a house and caused a gas leak which saw 20 homes evacuated and nearly 200 without electricity, firefighters said.
Three bins were set alight outside terraced houses on Fisher Street in Wolverhampton and the flames spread to gas and electricity meters.
The fire caused a gas leak which led to the road being dug up to cap the pipe. Electricity was cut off to 178 homes.
Police investigating say they are treating the fire as arson.
National Grid has warned of the dangers of deliberately starting bin fires.
West Midlands Fire Service was called to the scene at 04:05 GMT and some residents who had been evacuated took shelter in a nearby McDonalds before being allowed to return to their homes just after 07:30 GMT
More on this story and other updates on Birmingham and Black Country
Station Commander Simon Hardiman said: "When we arrived we found three bins alight along the street 100 yards apart.
"The fire in the middle bin had spread to the front window and living area inside a property. That in turn had spread to an electric meter box and a gas meter box inside the property.
"That had caused a leak within the gas pipe work."
Gina Lycett at West Midlands Police said: "The fire, which is believed to have started in a wheelie bin, is being treated as arson."
Stella Hayward, at Western Power Distribution, said: "We attended at 05:40 GMT and isolated the electricity supply for safety reasons. This affected 178 houses. Power was restored at 173 houses by 06:15 and the remaining five houses by 08:00 ."
Stephanie van Rosse, from National Grid, said: "People need to realise that setting bins on fire is a dangerous thing to do."