Woman's skull fractured by brick thrown at Birmingham bus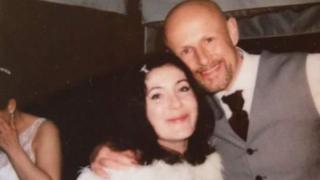 A woman's skull was fractured when she was hit by a brick thrown through the window of a bus.
Jo Brandon, 41, was "covered in blood and crying hysterically" after she was hurt in the Northfield area of Birmingham.
West Midlands Police said six similar incidents had occurred in the last six months involving the number 18 route.
National Express, which operates the service, said attacks will not be tolerated and buses have CCTV.
'Crying hysterically'
The number 18 runs between Yardley Wood and Bartley Green.
Ms Brandon was making her usual journey home from work at Newman University in Bartley Green to Cotteridge when she was struck at about 17:45 GMT on Tuesday.
Her partner, Stuart Oddy, said it happened at the top of Ley Hill when the bus slowed down to take a sharp turn by the Highlander Pub.
He said the mother-of-two had been sitting on the bottom level of the double-decker bus reading a book.
She phoned him in a state of panic, he said.
Mr Oddy said he was "shocked" by the incident.
"I fail to understand how someone can be so stupid and callous," he said.
'Known problem'
The bus driver phoned an ambulance and Ms Brandon was taken to the Queen Elizabeth Hospital where she had X-rays and an MRI scan.
She stayed in hospital overnight and has returned home with medication, said her partner.
Sgt Mani Gill, from West Midlands Police's safer roads partnership, said plain clothes officers are on regular patrols around local transport networks.