Anger over Cadbury corporation tax avoidance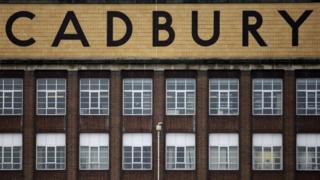 The union representing workers at Cadbury's chocolate factory has reacted with anger to news its parent company has not paid UK corporation tax.
The Sunday Times reported Mondelez International "lawfully avoided tens of millions of pounds" of tax since its takeover of Cadbury five years ago.
In 2014 it made a profit of £149m.
Mondelez announced 200 job losses at its Bournville plant in January and in 2011 reneged on a promise to keep its Somerdale plant open.
More on this and other Birmingham and Black Country stories
Unite union regional officer Joe Clarke said: "Nifty footwork by clever accountants meant that the Treasury was denied millions of pounds in corporation tax that could have been spent on the NHS and other much-needed public services.
"Once again, [chancellor] George Osborne is turning a blind eye to the accounting machinations of big powerful multi-nationals, but turning the screw on those struggling financially.
"While the exchequer is denied its due from Mondelez, shareholders are feasting on dividend payments of £1.3bn."
History of Cadbury
1824: John Cadbury's shop opens in Bull Street, Birmingham
1879: The factory, later named Bournville, opens four miles outside the city centre
1905: Dairy Milk is launched
1930: Cadbury becomes the 24th largest manufacturing firm in Britain
1969: The firm merges with Schweppes
2010: A hostile takeover from Kraft is accepted by shareholders
2012: Kraft Foods is renamed Mondelez International
Attempts by Cadbury to fend off a hostile takeover from Mondelez International (then called Kraft) failed in 2010 when the US company increased its offer to £11.5bn.
Cadbury came under fire earlier this year when it altered the recipe for its Creme Eggs; and in November it upset some fans of its Fruit & Nut bar by adding sultanas to the recipe as well as raisins.
In response to criticism over its tax activities, Mondelez International said: "We comply with UK tax law and, as with all global businesses, pay tax based on the laws of the country we operate in.
"We have invested over £200m into the future of our UK business over the past five years and we contribute £1.06bn to the UK economy."
Labour's Margaret Hodge, who chairs the Commons all-party group on responsible tax, told the Sunday Times the Quakers who founded Cadbury in Birmingham in 1824 would be "turning in their graves".
She said: "Cadbury has a proud history of investing in its communities. Yet this American company is avoiding taxes while using our workforce and infrastructure. It is selfish in the extreme and shows contempt for the people who buy their goods."