Carl Stephenson admits dumping pigs' heads but denies racist act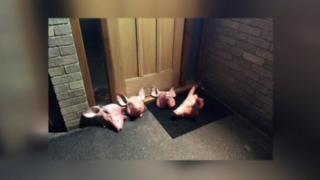 A man has admitted dumping four pigs' heads outside a community centre hired for an Islamic event but denies it was a racist act.
The heads were found outside the centre in Solihull, on 12 April.
Carl Stephenson, 34, accepted he can be seen in CCTV dumping the heads and spitting, but said he was unaware a Muslim group was using the centre.
Mr Stephenson denies causing racially aggravated harassment, alarm and distress, at Birmingham Crown Court.
The jury was told the centre, on Hermitage Road, had been hired on 7 April and fliers for the event had been distributed.
Two days later, an article appeared in the local media reporting concerns over the possibility the building could be used as a mosque.
On 12 April, CCTV, shown to the jury, showed a man leaving the animals on the doorstep and spitting, before he left.
The prosecution said Mr Stephenson, of no fixed address, was arrested in June but he denied he was responsible, despite being told tests on the saliva found at the scene matched his DNA.
Dumping the animals showed hostility to the Muslim community and intended to cause harassment, alarm or distress, the court was told.
But on Thursday, Mr Stephenson told the court he now accepted it was him in the CCTV footage, but he had told police he did not know the centre was being used by a Muslim group.
He said he could not see the significance of his actions and questioned what was racist about it.
A man from Muslim community who found the heads, told the court he was shocked and concerned by what he discovered and said it looked like it was a deliberate act to target Muslims.
The trial continues.