Cat with six kittens shot and killed by pellet gun in Birmingham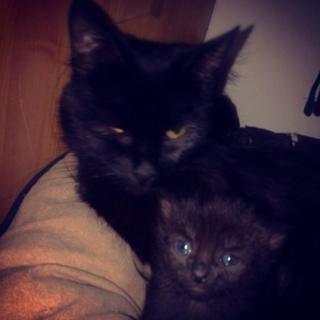 A cat has died after being shot with a pellet gun.
Daisy, a mother of six two-week-old kittens, was found trying to drag herself to safety near her home on Freasley Road, Shard End, in Birmingham.
The chocolate-brown cat was discovered by a neighbour with injuries to her mouth and pellet wounds on her body. She later died at a vets.
Owner Elizabeth Cavanagh said she was hand-rearing the kittens.
"Daisy was such a friendly, placid girl and she would go to anybody to say hello," she said.
More on this story and other updates on Birmingham and Black Country
She said when Daisy left the house, on 27 November, she had not expected her to be long because of the kittens.
Dragged herself home
"When three hours had passed by I was so worried, so I posted a photo of Daisy onto a local Facebook group in the hope somebody may have seen her.
"I had no idea that Daisy had suffered a terrible attack and then tried to drag herself back home despite injuries to her mouth, pellet wounds to her body and bruises.
"A neighbour had found her and taken her straight to a vet, not knowing Daisy had almost come back to her home."
RSPCA inspector Boris Lasserre called for any witnesses to come forward.
"At the moment we know very little about when and why this has happened," he said.
"Daisy must have suffered terribly, and sadly many cats shot in this way are fatally wounded and do not survive."