Trams return to Birmingham on Sunday after 62 years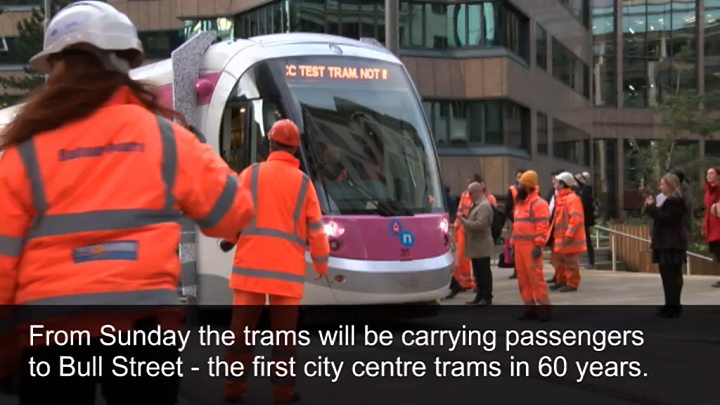 Trams will return to the streets of Birmingham for the first time in more than 60 years on Sunday.
Passengers on Midland Metro services will be taken from Snow Hill to a new stop in Bull Street as the first step in the opening of a £128m project.
Trams last ran on the streets of Birmingham city centre in 1953.
Transport authority Centro announced a scaling back of tram works in the run-up to Christmas to minimise disruption in the festive trading period.
But it said over the coming weeks visitors would see trams running along Corporation Street to New Street Station as Centro aims to carry out testing and commissioning of the entire 0.7 mile (1.2km) extension during December.
Passenger services to New Street Station would start once all infrastructure work and test running has been successfully completed, it added.
The £128m tram extension includes a £40m fleet of new trams.
Work is under way on extending the route from New Street Station to Centenary Square with services expected to start running in 2019, Centro said.