Birmingham Central Library: Last-ditch campaign to save building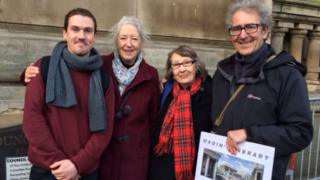 Campaigners have appealed to Birmingham City Council's new leader to save the "iconic" Central Library building from demolition.
The building, an example of brutalist architecture, closed to make way for a new £189m library in 2013.
But campaigner Mary Keating said it was "internationally" significant and people all over the world were among 2,000 who signed their petition.
The petition was handed in on the day John Clancy becomes leader.
It calls for the building to be given an alternative use. However, the Labour-run council said the old library's demolition was a "done deal" and internal demolition was already under way.
"Statues have been moved as part of the Paradise Development work and new buildings will be put there," he said.
Author Alan Clawley, who has written books about the library and its local architect John Madin, is hopeful it can still be saved.
"Although we previously held a wake for it, there is still some life in the building," he said.
In 2009 the then culture and tourism minister, Margaret Hodge, turned down an application to have the building listed because she was not satisfied it was "really of sufficient architectural or historic interest".
Mr Clawley said a five-year Certificate of Immunity from Listing runs out in January and the campaigners will apply again to have the building listed.
Ms Keating, who led about 20 protesters outside the Council House, said the 1974 structure was a "Marmite building", either loved or loathed, but either way it must be saved because of its importance.
"I think we now have the support of a new generation of people in Birmingham who love the building and have grown up with it," she said.