Queen officially reopens New Street station on Birmingham tour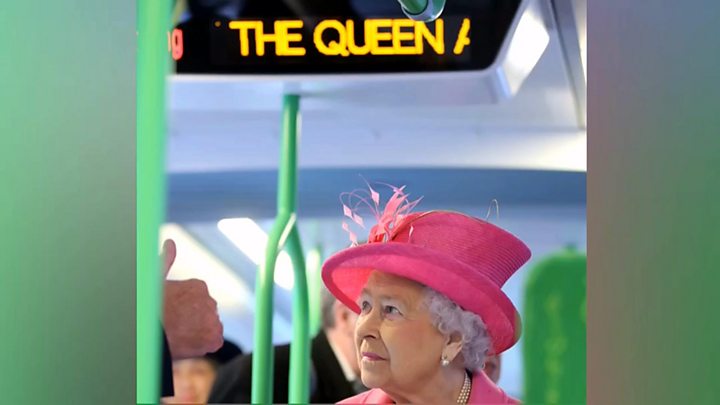 The Queen and the Duke of Edinburgh have officially opened Birmingham's New Street station after a £750m revamp.
The Royals unveiled a plaque at the redeveloped station and paid tribute to railway staff killed in action during World War One.
They also visited the newly-built Midland Metro Tram Extension at Bull Street and named a tram.
Security for the visit was stepped up in the wake of the Paris attacks last week.
More updates on this and other stories from Birmingham and the Black Country
Railway service
The Queen arrived on the Royal Train at New Street to officially reopen the station, which had its new look unveiled in September, following five years and £750m of redevelopment work.
She joined Bishop of Birmingham David Urquhart for a service at the Pals War Memorial, before boarding a new tram.
The trip also saw her visit the Birmingham Dental Hospital and School of Dentistry, on the the former BBC site at Pebble Mill.
West Midlands Police had confirmed additional officers would carry out high-visibility patrols during the visit following the terrorist attacks in France.
As passengers boarded their trains, the central concourse was sealed off while the Queen unveiled the plaque.
Earlier Assistant Chief Constable Gary Cann said the measures were being taken as a precaution.
"I want to stress that there has been no specific intelligence received relating to a threat to the event," he said.
Network Rail operator Shaun Jasper, 48, was one of the workers invited to meet The Queen and Prince Philip.
He said her majesty looked "fantastic" and the Duke of Edinburgh was "funny".
"A train announcer was stood next to me and he said 'Do you announce in a Brummie accent?'" he said.
"She said no. And he responded saying: 'I suppose you've got to announce in an English accent so everyone can understand you.'"
Edith Pamplin, from Manchester, and Margaret Kittle, from Canada, visited especially to see the Queen.
Margaret said: "It's the Queen's 68th wedding anniversary tomorrow so I brought her this plate from when her mother and father came to Canada in 1939."
Edith said: "I had these flowers made specially. I'm sorry I didn't get to give them to her but it was wonderful to see her."