Kittens rescued from Sheldon house fire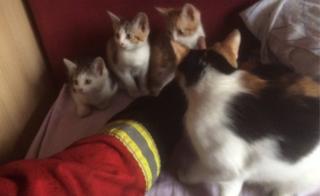 Firefighters have rescued four kittens and two cats from a house fire in Birmingham.
The animals were saved by West Midlands Fire Service after a blaze broke out in the kitchen of a house in Sheldon on Saturday evening.
It is thought the fire was a result of a cooking pan being left unattended on top of a stove.
No people were injured, and a fire service spokesperson said all six of the felines were also unhurt.