Sutton Coldfield 'half a job' zebra crossing criticised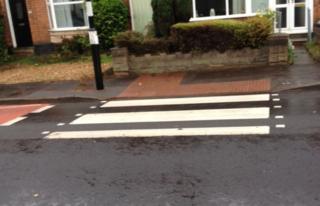 Road workers who left behind half a zebra crossing after tarmacking over the other side have been criticised for doing "half a job".
The crossing in Boldmere Road, Sutton Coldfield, was left unfinished for at least a few weeks, residents said.
Highways contractor Amey said the road had recently been resurfaced by a subcontractor and apologised for the delay in "reinstating" the markings.
The missing half has since been repainted, it said.
An image of the missing lines drew critical comments when it was posted online.
Posting on Facebook, Pauline Roberts wrote: "I hope they are also getting half a wage. I would have been sacked for doing half of MY job!!"
While Andy Grey Worley said it was "hilarious" some users had mistakenly thought lazy line-painters were to blame for the error.
"It's quite obviously only half a job because only half the road has been resurfaced leaving the existing crossing in place," he wrote.
Read updates on this story and more from the West Midlands.
An Amey spokeswoman said it was "investigating the cause of the delay internally and with the subcontractor that carried out the works".