Owners sought for cat impaled on fence in Birmingham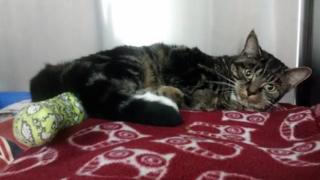 A cat was rescued after being impaled on a fence in Birmingham, said RSPCA staff who are trying to trace her owners.
The young tabby, who has been named Sparkle, was found stuck in a garden in Bromford Lane, Washwood Heath, on Bonfire Night.
Sparkle is recovering from surgery at Newbrook Farm Animal Hospital. Staff there believe she jumped onto the fence to escape fireworks.
She did not have a collar or microchip.
More on this story and updates from Birmingham & Black Country
RSPCA inspector Becky Cooper said: "We believe Sparkle had jumped down from a taller fence onto the metal railing, possibly quickly because there were a lot of fireworks going off.
"When I got there, it was obvious that I would not be able to free her without the help of West Midlands Fire Service.
"We think Sparkle is somebody's pet as she is happy to be handled, has been neutered and is in good condition.
"There might be a family out there who are missing their much-loved pet."