Rebecca Kandare death: Parents jailed for malnourished baby killing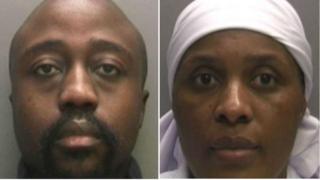 The parents of a dying baby girl, who failed to seek urgent medical care for her because of their religious beliefs, have been jailed.
Brian Kandare, 29, and Precious Kandare, 37, of Wednesfield, West Midlands, admitted the manslaughter of eight-month-old daughter Rebecca.
Rebecca was malnourished and had one of the worst cases of rickets seen in a UK infant, Nottingham Crown Court heard.
Brian Kandare was jailed for nine and half years and his wife for eight.
Updates on this story and more from the Black Country
Baby Rebecca died of pneumonia as a result of malnourishment after being taken to hospital on 6 January 2014.
Prosecuting, Jonas Hankin QC said Rebecca was "significantly underweight and severely malnourished" and that she weighed about the same as a three-month-old when she died at the New Cross Hospital, Wolverhampton.
The couple earlier denied murdering their daughter but admitted manslaughter as their trial was about to begin.
'Supernatural power'
The pair attended the Apostolic Church of God in Wolverhampton which had strict views on modern healthcare.
Members of the 20-strong congregation, who held prayers in a converted garage in the garden of a house, were encouraged to speak to the church's midwife with medical problems before seeking further help.
Members could also be excluded from certain church activities if they went to a doctor without permission, the court heard.
The Kandares handed over responsibility of the care of their sick daughter to a church midwife three days before she died, believing in her "supernatural healing powers", the court heard.
Mr Hankin said Rebecca's death was "a direct consequence of a prolonged course of wilful neglect" which involved failing to provide nutritious food and denying medical aid.
He told the court the "symptoms of wasting and malnutrition developed over time" and by early January the baby was feverish with a serious chest infection.
Despite "an obvious risk that she might die", the defendants denied her medical help.
"Her illness was treatable and her death was preventable," the barrister said.
The court also heard that when Rebecca died she weighed 11lb 9oz (5.24kg) and there was no trace of food or milk in her stomach.
She was also suffering the worst case of rickets one experts had seen in their 33-year medical career.
Mr Hankin said: "In prioritising their religion over their daughter's welfare, in breach of their duty to care for her, the defendants are guilty of the most serious abuse of trust."
Nigel Lambert QC, mitigating for Mrs Kandare, said she remained in a "state of emotional turmoil".
"She knows that she chose the wrong course for the wrong reasons and such neglect was a significant cause in Rebecca's death and she will have to live with that," he said.
She was in the process of divorcing Mr Kandare, Mr Lambert added.
Roger Smith QC, her husband's lawyer, said his client would "never forgive himself".
"His greatest concern is that people will think he did not love his daughter Rebecca," he said.
Det Insp Lloyd Davies, from West Midlands Police, said after the case he was satisfied with the sentences for the couple who had been "callous beyond belief".
He said Wolverhampton Safeguarding Board was looking into the case and the issues raised.
"Clearly we have demographics of people living within our communities that practice this sort of religious belief - putting religious belief before medical interventions - and we must intervene in that and prevent any future deaths occurring of a similar nature," he said.