Kenneth McRae killed wife Jane and then himself over knotweed fears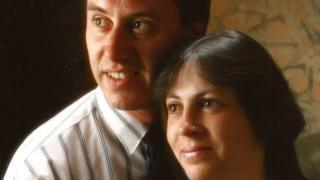 Nothing could have been done to prevent a man killing his wife and then himself over fears about Japanese knotweed blighting their home, a report says.
Kenneth and Jane McRae were found in their home in Rowley Regis in 2013.
In a suicide note, Mr McRae said he feared the invasive species on land adjacent to their house would spread.
The Safer Sandwell Partnership report said no reasonable person could have anticipated the actions he took and attributed to such an improbable cause.
At their inquest, a coroner ruled Mrs McRae had been unlawfully killed and that her husband had killed himself.
Mr McRae, known as E in the report, "spoke warmly" of his wife in his suicide note, but said he had become disturbed by the presence of the nearby knotweed.
He felt it would make it impossible for them to sell their house in the future, the partnership's Domestic Homicide Review said.
'No rationale'
He said he had killed his wife because he did not want her to be alone without income after he took his own life.
The report said there was no history of domestic violence between the couple and responsibility for Mrs McRae's death lay entirely with her husband.
It concluded: "His actions were completely out of character, came entirely without warning and had no rationale that can be understood by outside agencies or anyone who knew him.
"The homicide could not have been predicted or prevented by local agencies and no opportunities to intervene were missed.
"Reluctantly the panel has to conclude that a similar tragedy cannot be prevented in future if the same circumstances occur again."
Japanese Knotweed was introduced to the UK from Asia by the Victorians as an ornamental species.
But it has become a major environmental problem across Europe and has been thriving in several parts of the UK.
Planting or dumping it can lead to a prison term or a fine under the Wildlife and Countryside Act 1981.