Industrial action threatened by axed Goodyear workers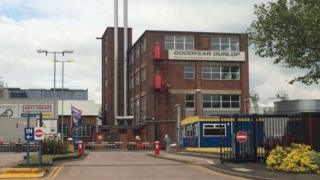 Goodyear workers may take industrial action over the decision to close its only UK manufacturing plant in Wolverhampton, union Unite says.
More than 300 staff will lose their jobs, the first on New Year's Eve, as the company begins a phased closure.
Gerard Coyne, West Midlands secretary of Unite, said the level of anger amongst workers meant that industrial could not be ruled out.
Goodyear said it had not been offered an alternative suggestion to closure.
It first announced the plans in June but has now confirmed it is implementing the proposal following a consultation period with unions.
It is likely staff will be offered the chance to apply for jobs at others locations abroad.
Worker Wayne Devaney, 53, said staff were due to be told the news by unions this weekend but the company announced it on Tuesday.
"We had been told there were to be two union meetings at the weekend where the guys would be told personally before anybody else and the company went and announced it to the world again and they put a letter out stating what their intentions were, which was they were shutting the plant," he told BBC News.
He said he did not believe the firm's offers for staff to relocate to its factories abroad would help many of those on the shop floor, describing the offer as "jobs for the boys in suits, but not in boiler suits".
He said they would keep fighting the decision as the company was deemed profitable by assessors, Syndex UK, a non-profit organisation that works with trade unions.
Unite said the Stafford Road plant was "highly productive and efficient" and the union commissioned independent analysts to examine the business case for the closure and alternatives that Goodyear could have considered.
Mr Coyne said the consultation over the closure "has been nothing short of a sham".
"Management's refusal to release key information and its stonewalling over the business case for the closure leads us to conclude that it was taken because UK workers are easier to fire than their European counterparts," he said.
"Workers have strived to make the Wolverhampton factory a success and feel betrayed."
Mr Coyne said the prospect of industrial action was "quite possible" because workers had been given "false hope".
"Because of the level of anger amongst the workforce, being given false hope about actually a review of the decision and now to be treated in such a shoddy way in terms of notification of redundancies by the end of the year really, really rankles with our membership," he said.
The firm said production was anticipated to end no earlier than January 2017 but would not comment further.
Goodyear tyres in Wolverhampton
Goodyear was founded in 1898 in Akron, Ohio, USA
After beginning overseas expansion in 1913, Goodyear bought the Wolverhampton premises in July 1927
The first tyres were manufactured at Wolverhampton the following December
In 1939 the company switched to war production. Factory employees worked 20 days on and just one day off
At its height, the factory employed 7,000 workers