Levi-Blu Cassin death: 'Serious failings' in safeguarding Solihull children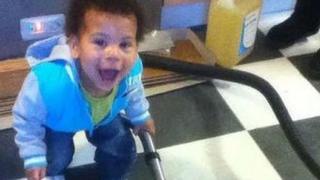 A report into the death of a 21-month-old boy at the hands of his parents has revealed major failings in safeguarding children in the Solihull area.
Levi-Blu Cassin suffered "catastrophic" internal injuries at his home in Chelmsley Wood, Birmingham, in 2013.
Parents Danielle Cassin and Mark Piper both denied responsibility but were each jailed for nine years in December for causing or allowing his death.
The report said risks he faced were not sufficiently recognised or acted upon.
Nick Page, chief executive of Solihull Council, said he accepted Levi-Blu had been let down.
The toddler was found at the flat his parents shared on 20 February 2013.
'Significant force'
Post-mortem examinations revealed the toddler's duodenum - where the small intestine meets the stomach - was split in two.
Judge Goss said Levi-Blu was "stamped on or kicked" with "very significant force required" to inflict the injuries that killed him, some 12 hours before his death.
Cassin, 27, of Frensham Close, Chelmsley Wood, and Piper, 31, of no fixed abode, both gave differing accounts and effectively blamed each other for his injuries.
The review highlighted failings by various agencies including the need for improvements in assessing the risks faced by Child S, as Levi-Blu is called in the report.
More coherent joint case planning was needed and "increased challenge of his mother's denials of domestic abuse and drug use".
The review also found "the rule of optimism" influenced professionals in their decisions about the parents, sometimes instead of the facts about the case.
His death was not predictable, the review said, and a separate panel will decide whether it was preventable.
Overall, a "significant amount of learning" was required for all agencies involved in safeguarding children in Solihull.
The review made several recommendations including a review of "tools" used in child protection cases, across agencies, and better communication and working arrangements between police and social workers.
Mr Page said there were "gaps" in terms of what should have been done to protect Levi-Blu, not enough information was shared between agencies and no-one took overall ownership of what was happening.
Angela Cassin, Levi-Blu's grandmother, who published the serious case review on social media, said she was shocked at the lack of communication.
"There were lots of things in there I didn't know and what was going on in the background and nothing was done."