Fundraising sensation Stephen Sutton has Virgin train named after him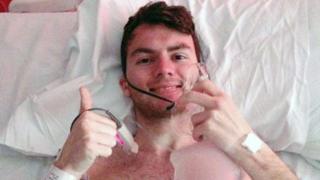 Teenage cancer fundraiser Stephen Sutton, who died last year, has been honoured with a train named after him.
The "thumbs up" message of the 19-year-old, from Burntwood, in Staffordshire, endeared him to thousands of people as he battled cancer.
He raised almost £5m for Teenage Cancer Trust, nearly a quarter of which was donated after he died on 14 May 2014 - and people are still contributing.
Stephen's mother, Jane Sutton, said it made her "an unbelievably proud mum".
"Thousands of people will see this train travelling up and down the West Coast Main Line which will only help to reinforce 'Stephen's Story' and remind people of Stephen's message - to make the most of every opportunity."
The re-naming of the Pendolino 390002 is the fourth time Virgin has named a train after an individual.
Virgin Trains has previously named trains after Samaritans founder Chad Varah, Australian explorer Matthew Flinders and Chris Green, its former chief executive.
The gesture is part of the second Pride of Birmingham awards run by the Birmingham Mail.
Stephen was initially diagnosed with bowel cancer, which then spread to other parts of his body.
Rather than dwell on his misfortune, the teenager drew up a "bucket list" of things he wanted to achieve before he died.
This led to him completing a skydive and playing drums in front of 90,000 people before the Uefa Champions League final at Wembley in May 2013, among various achievements.
He set out to raise £10,000 for the Teenage Cancer Trust, but his campaign attracted global attention after a photo of Stephen went viral online.
Phil Cavender, general manager of Virgin Trains, said: "It is only right Stephen's inspiring story lives on and we are overwhelmed by the support of his family in allowing us name one of our Pendolinos in his honour."
Mrs Sutton received a posthumous MBE medal on her son's behalf last November.
A two-day memorial vigil held in his honour at Lichfield Cathedral drew thousands of well-wishers.