Cancer patient 'given months to live in error'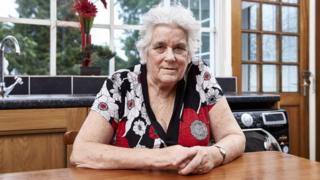 A woman given six months to live by a doctor who told her to plan her funeral says she was called back to hospital 18 months later and told it was a mistake.
Margaret Lowbridge, 74, of Oldbury, West Midlands, had chemotherapy for bowel cancer, which she says Prof David Ferry told her was terminal.
The Dudley Group NHS trust said more treatment should have been offered. She is now dying after the cancer spread.
The Medical Defence Union said Prof Ferry could not comment.
He is registered with the General Medical Council (GMC) but currently does not have a licence to practise, meaning he cannot practise in the NHS or prescribe medicines.
The Medical Defence Union, which provides legal cover for doctors including Prof Ferry, said the reason he relinquished his licence to practise "is because he works abroad and no longer sees patients".
'Counting down'
When Mrs Lowbridge had chemotherapy, she developed a deep tissue infection and the treatment was withdrawn. She said that in June 2013 Prof Ferry told her she had lived her life and should contact a Macmillan nurse for palliative care.
She said: "I was left counting down the months until my anticipated death which never arrived."
Law firm Medical Accident Group, which represents Mrs Lowbridge, said in December last year she received a letter from Russells Hall Hospital inviting her to attend a follow-up appointment.
She said she was told Prof Ferry no longer worked for the trust and that she should have been offered further treatment.
Paula Clark, chief executive of the Dudley Group NHS Foundation Trust, said: "The trust is only aware of one ongoing case where Professor Ferry's advice has been questioned.
"Clearly, the trust cannot comment on an individual case. Professor Ferry was employed by Royal Wolverhampton Hospitals NHS Trust and has not worked at The Dudley Group since October 2013."
She said the trust "wouldn't normally comment on individual staff" but as could be seen on the GMC's website Prof Ferry "has conditions" with the medical body.
He is currently working for a US drug firm and has interim restrictions on his registration, pending a full hearing before the GMC.
The restrictions include getting GMC approval for any post that he accepts which requires GMC registration in or outside the UK. He is also barred from undertaking any private practice.
There is no evidence the restrictions relate to his treatment of Mrs Lowbridge.
The chief executive of Royal Wolverhampton Hospitals Trust David Loughton, who employed Prof Ferry, said he was not aware of any further cases but could not comment for legal reasons.
The Medical Defence Union said Prof Ferry "is unable to comment due to his duty of confidentiality to his patient".