Birmingham 'bullying' video girl admits assault and robbery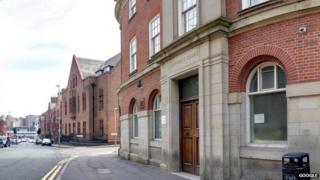 A 16-year-old whose attack on two other girls was filmed and posted online has been warned she may be "locked up" for the offence.
The girl, who cannot be named because of her age, pleaded guilty to robbery and assault when she appeared at Birmingham Youth Court earlier.
The attack took place in the Northfield area of Birmingham on Saturday evening.
Her solicitor said the girl had received "thousands of death threats" after her identity was shared online.
Police have urged people to delete the video from their Facebook accounts in case it affects further legal proceedings.
Mobile phone footage of the incident, which has been viewed millions of times, shows two victims being punched, and having their bags taken and emptied.
When admitting assault and robbery, the girl told police she could not remember anything about the incident, which happened at about 22:00 BST on Saturday, because she had "downed a bottle of vodka" in the hours beforehand.
As a result of the adverse publicity, the girl's solicitor Amy Nuttall said the teenager was kept in police custody "for her own welfare", after her identity was revealed.
Ms Nuttall said: "She was receiving thousands of death threats, after her mobile phone number was provided on the internet.
"The phone has now been disposed of."
The girl, who has left school, said she was "disgusted" with herself after being shown a video of what happened.
Sandra Murgatroyd, prosecuting, said two groups of youngsters had clashed on the night of the attack.
The teenager then accused two girls in the other group of "of giving her a dirty look".
She forced the first girl to get on her hands and knees to apologise, and hit her in the face with a handbag before turning on a second victim.
The teenager then went through the victim's bag, stole her phone and purse and told her she would "beat her up if she grassed".
District judge Shamim Qureshi told the 16-year-old there was a "high probability" she would be given a detention and training order of up to eight months when she is sentenced.
"That's the one that locks you up," he said.
Officers have already spoken to two other individuals, a police spokesman said, and "plans are in place" to arrest a second girl.