Goodyear closes Wolverhampton tyre factory with 330 job losses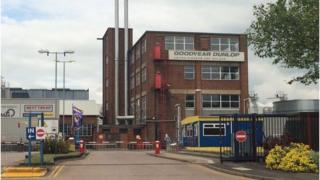 Tyre company Goodyear has announced plans to close its only UK manufacturing plant.
All 330 workers at the Wolverhampton site are expected to lose their jobs.
The US company, which plans to transfer the site's operations elsewhere, said the move would "strengthen its competitiveness in the face of a challenging business environment".
MPs and councillors called on Goodyear to reconsider. Unions said the decision was "shameful".
'Really bad news'
Goodyear said its plans were subject to consultation with staff and unions.
It said it was "determined to find responsible and fair solutions for all affected employees".
"The proposed actions are needed to help strengthen competitiveness in the face of a challenging business environment, increased competition and currency headwinds," the company said.
The firm said it was improving efficiency by transferring the production of commercial retreaded tyres and compound mixing carried out at Wolverhampton to other plants in Europe, the Middle East and Africa.
Increasing competition
Erich Fric, managing director of Goodyear Dunlop Tyres UK, said: "We understand the impact the closure of Wolverhampton would have.
"We will honour our responsibilities and will do everything we can to support all employees who are affected.
"In the face of ever-increasing competition, we carefully considered several options.
"However we believe these proposals are needed to strengthen our competitiveness and ensure we have a sustainable business."
A spokesman for Goodyear said if the Wolverhampton factory did close, it would do so by the summer of 2017.
History of Goodyear tyres in Wolverhampton
According to its website, Goodyear was founded in 1898 in Akron, Ohio, USA
The company began to expand internationally and in 1913 plans were announced to open a branch in Rio de Janeiro, Brazil
Goodyear bought the Wolverhampton premises in July 1927 and the first tyres were manufactured in December that year
In 1939 the company switched to war production. Factory employees worked 20 days on and just one day off
At its height, the factory employed 7,000 workers
Goodyear employee Wayne Devaney said staff were angry at the decision, particularly after Dunlop Motorsport's decision to close its plant in Birmingham last year.
"We grafted, broke our backs and did all we could in making this plant work, this is gut wrenching news to us who work there," he wrote on Facebook.
He said the plant had performed well over the last 10 years, particularly compared with similar facilities on the continent.
The company has been based in the city for almost 90 years. The Wolverhampton site is Goodyear's only manufacturing operation in the UK, although they have a head office in Birmingham.
Worldwide, Goodyear employs about 75,000 people with factories in the US, South America, Europe and Asia.
Labour MP for Wolverhampton North East, Emma Reynolds said: "It's really bad news for all of the people who work at the Wolverhampton factory and their families but also for the city because there are generations of people in Wolverhampton who have worked at the Goodyear factory.
"I am calling on the company to reconsider their decision."
A government spokesperson said it was "extremely disappointing news" for the workers and the city as a whole, "especially in an area which is at the forefront of the renaissance in the automotive manufacturing sector and the associated supply chain".
The Department for Work and Pensions said it would be working with the city council to support staff at the firm and help them find other jobs.
'It hits everybody hard'
Trevor White, said he had worked at the plant for almost 40 years.
"I started when I was 19 and I remember when there were 5,500 workers there. It's been seen as a good job in the area, but hard work," he said.
"There have been rumours in the last year, but the first I found out was when my son heard it on the radio in his car and got in touch."
Another worker, Brendan O'Reilly said he had spent 42 years at the factory it was "devastating" news particularly for younger workers with families.
"You could hear a pin drop when we heard the news," he said.
Chris Fry, 63, a former British Steel worker, said: "We've made fantastic progress with Jaguar coming [to the area] so something like this happening just when things seem to be on the up is always a bit disheartening.
"It is sad to hear more jobs going particularly at a company that's had such strong links for such a long time with the city."
Andy Taylor, regional officer for the Unite union, said the earliest redundancies could take place in October.
"It's a massive blow to the history of city as well as those who work here," he said.
"There has been a lot of investment here and workers have worked hard to turn things round. This is shameful."
Unite said it expected the retread division to close in October and the rubber compounds section by January 2017.
Regional secretary Gerard Coyne said it was "devastating blow" to the local economy.
"It is disgraceful that Goodyear did not have the good grace to tell the workforce first and instead workers found out that they could be out of a job through the local media," he said.
Peter Bilson, deputy leader of Wolverhampton City Council, said: "This is extremely disappointing news and we are seeking an urgent meeting with the company.
"While we recognise Goodyear is a global business that has to make global decisions, we would urge the company, which has a deep-rooted history with the city, to reconsider this decision."
Professor David Bailey, professor of industry from Aston Business School, said the news was "not a shock".
"The plant had become increasingly isolated. The big investments had been taking place elsewhere," he said.
"It's going to be a blow for the workers but this has been a long-running process."