Arrest over pigs heads dumped at Solihull community centre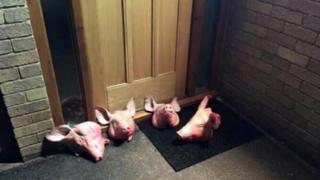 A man has been arrested after pig heads were dumped on the doorstep of a community centre, police said.
Four pigs heads were left outside the centre on Hermitage Road, Solihull, on Sunday, 12 April.
West Midlands Police said a 34-year-old man was arrested in The Radleys, Marston Green, at 01:00 BST.
He is being held on suspicion of carrying out a religiously-aggravated public order offence, a force spokesman said.
Solihull Council launched an investigation into claims the centre was being used as a mosque, breaching planning regulations.
More than 3,000 people signed an online petition against its use for worship.
A council spokesperson said their investigation identified "no evidence of a breach of planning control at this time".