Marcus Marcussen victims sue council over 'sadistic' teacher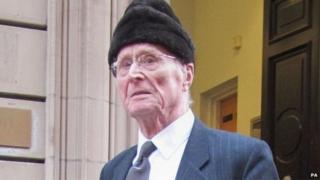 Six victims of a teacher convicted of physically and sexually assaulting them have started legal action against Birmingham City Council.
Marcus Marcussen, 91, was sentenced in February to nine years in jail for abusing boys at the council-run Ilmington Road Comprehensive School in Weoley Castle between 1957 and 1978.
In sentencing, the judge described the offences as "tinged with sadism".
The council said three claims had been received and were being looked into.
'Pain and trauma'
Marcussen, from Rochford near Tenbury Wells in Worcestershire, abused pupils during and after PE lessons and at a swimming club called the Square Club in Weoley Castle.
He used a whale bone to strike and intimidate the youngsters and made them stand on a chair after showering so he could abuse them under the pretence he was checking to see if they were dry.
Raman Dhillon from law firm Irwin Mitchell, which is representing the victims, said: "All of those we act for are men in their 50s who have been forced to live for most of their lives with the pain and trauma of the abuse they endured at the hands of Marcussen.
"This has had a massive impact on their lives and we have heard first-hand accounts on how victims have endured breakdowns, struggled to trust others, stay in long-term relationships and even attempted suicide due to the lasting effects of their trauma."
Birmingham City Council said it had so far received three claims which were being investigated. Irwin Mitchell has said it will submit claims from a further three victims.