West Midlands Police: Front desk closures cost £500,000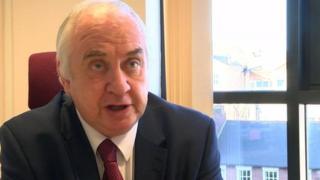 The closure of 27 out of 41 West Midlands Police front desks will cost more than £500,000, the BBC can reveal.
Staff numbers will be cut from 175 to 102, according to a BBC Freedom of Information request.
Redundancies will cost at least £378,980, while private firm BMG Research was paid £100,000 to discover public demand for front desks before it was decided to close some.
The force has said it would save £3m a year and front desks were "underused".
Ten front counters will remain open, nine from 08:00 to 22:00 BST and one for 24 hours a day. Four desks run by volunteers will also remain open.
New intercom systems installed so people can speak to the police's non-emergency contact centre when front desks are closed cost "under £30,000", the force said. That money also ensured closures "complied with health and safety requirements".
Neighbouring Staffordshire Police revealed on Tuesday three of its inquiry desks would close and 28 posts would be axed in a savings bid.
Carl White, Unite branch secretary at West Midlands Police, said the union had objected to the loss of "so many iconic front desks" from communities, but "had to concede their use was down".
He said: "I'm worried people will only be able to talk to police in future by using technology.
"We have an aging population who like the security of being able to go to front offices and speak to a person.
'Justified'
"It could also potentially produce a 'false' crime figure - if crime is not reported, it is not recorded."
Dudley North's Labour MP Ian Austin, who presented a 2,200-name petition opposed to the closure of Dudley's front desk to Parliament, said: "Police have got some very difficult decisions to make to save money and the reason is the huge cuts made by Government."
The force said 35 staff would take voluntary redundancy, 31 secured alternative roles and seven compulsory redundancies would be made at a further cost of £52,643 if they did not find alternative roles before their leaving dates.
A spokesman said: "The public have demonstrated a clear move away from face-to-face contact at police front offices in favour of contact by telephone and increasingly other means. A one-off spend of £500,000 to facilitate a year-on-year saving of around £3m is justified.
"We have no evidence to suggest that reported crime will reduce. Overwhelmingly, crime is reported via the telephone and our 101 call handling function."
More than 2,700 jobs, including 1,100 officer posts, are to go across the force by the end of 2015 to save £126m.