Birmingham street photographs celebrate migrants' achievements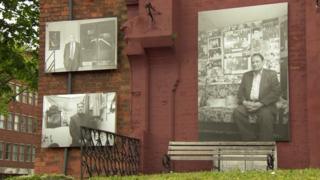 A series of billboard-sized photographs documenting the social history of migrant communities in Birmingham has gone on display in the city.
The 2m (7ft) high images, taken by photographer Vanley Burke, have been put up on buildings along Stratford Road.
The photographs celebrate the lives and achievements of the area's residents.
Sound pods designed by artist Brian Duffy play audio telling the stories of the people featured in the images.
The exhibition is part of a community heritage project called My Route which has researched and documented the social history around Birmingham's Stratford Road, from the 1940s to the present day.
The project is being delivered by Sampad South Asian Arts and has been supported by the Heritage Lottery Fund.
Among those featured in the photographs is Serdar Berwari, who escaped civil unrest in Iraq and came to Birmingham seeking asylum.
At the time he could not speak a word of English but within three years he graduated from college.
He now runs a successful businesses in the area.
Mohammed Yousuf is featured because of his interest in Bollywood cinema, which led to him winning the Asian Song Contest, a national event that was a forerunner to The X-Factor.
He later set up a Bhangra group that toured internationally and, most recently, set up the Awaaz Academy, a performing arts company in Sparkhill.
Photographer Vanley Burke was born in Jamaica in 1951 and has lived in Birmingham since 1965.
He is also a collector of posters, books, clothes, records, and ornaments.
The Ikon gallery is planning to exhibit the entire contents of his flat from July until September.