Great Birmingham 10K race: Thousands take part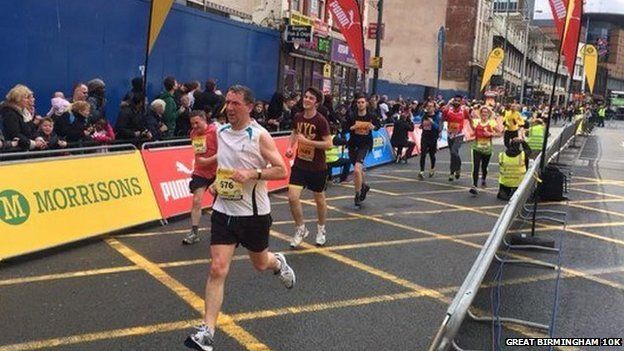 Some 6,500 people have taken part in a new 10km race through Birmingham, with thousands more lining the route.
Ultimately, the council-backed scheme hopes to inspire 100,000 people take up the sport to improve health.
Sunday's race started near Millennium Point from 10:30 BST and finished on Broad Street.
There were a number of start times, depending on ability, as well as smaller events that saw about 200 children, some as young as three, take part earlier in the day.
Organisers said they were "thrilled" by how the event had gone, as well as the crowd that gathered to cheer people on.
Among the runners was Game of Thrones actor Jerome Flynn, who joined Wolverhampton woman Anne Fowler.
Ms Fowler, 37, is running 111 miles across the country in aid of the Global White Lion Protection Trust, of which Flynn is a patron.
She was one of many people raising money for charity, including local causes such as the Birmingham Children's Hospital, Queen Elizabeth Hospital and a number of Midlands cancer centres.
Related Internet Links
The BBC is not responsible for the content of external sites.