Library of Birmingham cuts weekend opening to six hours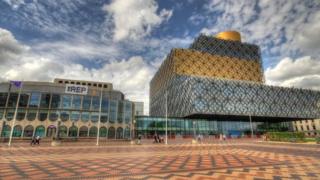 The £189m Library of Birmingham, which has been open for less than two years, is to be shut on Sundays.
It means the building, housing one million books, will be available for just six hours at weekends, from 11:00 to 17:00 on Saturdays.
The city council cut the hours - from 19 April - as part of needs to save nearly £113m from its 2015/16 budget.
In February, it announced opening hours would be reduced. Up to 90 staff are expected to lose their jobs.
The council stressed that staff redundancies were still being discussed, but cuts could affect a total of 100 people.
The library has more than 200 public access computers, theatres, an exhibition gallery and music rooms.
Loans were mostly used to fund its construction, with a small amount raised through donations and council land sales.
It replaced the 1970s Central Library, which Prince Charles famously described as looking like a place where books would be "incinerated rather than read".
But a mixture of budget cuts and a £1.1bn equal pay claim from female workers has left the council with significant financial problems.
Council leader Sir Albert Bore said the legal bill in particular had left the Labour-run council in a "horrendous position financially".
Library user Steve Godwin, 52, of Handsworth Wood, said he thought the move was "absolutely appalling".
"It's one of the highlights of the city. As a library it's wonderful, modern architecture at its better end. It's a crying shame."
Elaine Lawrence, 47, from Penkridge, Staffordshire, said she thought it was "a bit of a shame" but added: "I don't know how many read books these days.
"I assume if the council have done research, they'll know it doesn't need to open on Sundays."
Library of Birmingham opening hours:
Now:
Monday - Friday 8:00 - 20:00
Saturday 9:00 - 17:00
Sunday 11:00 - 16:00
From 19 April:
Monday/Tuesday 11:00 - 19:00
Wednesday - Saturday 11:00 - 17:00
Sunday closed
The Wolfson Centre for Archival Research will be open Tuesday to Saturday 11:00 - 16:00. This will be reviewed at the end of May.
Ciara Gallagher, 23, from Solihull, said it seemed "ridiculous to spend a huge amount of money" to then only have it open for 40 hours a week.
However, she thought there would only be a limited impact on tourism "because people would take photos outside anyway and may not go inside".
David Rostron, 34, of Dudley, said: "When they make such a bold statement with the library to rejuvenate the idea of the library and then cut staffing levels and hours, it's almost taking it away.
"The idea of having a library for people to drop into, that's flexible for people working or students - and then to take that away - it's huge, especially for families with children who may only be able to go on Sundays."
The Library of Birmingham was recently named the only attraction outside London on a list of the UK's 10 most-visited tourist sites last year.
It drew more than 2.4 million visitors, beating London's British Library, which saw about 1.6 million.