Finding their voice: How stroke survivors can sing
By Phil Mackie
Radio 5 live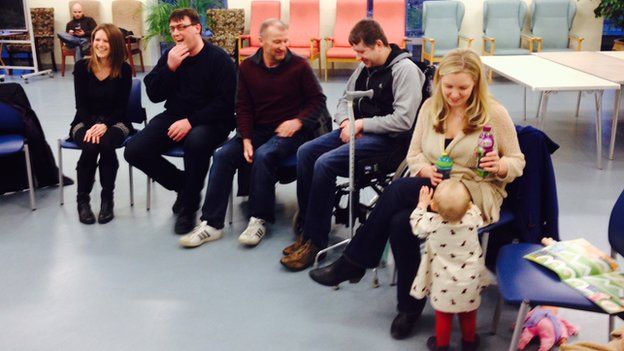 Wednesday evenings in a church hall in Selly Oak, Birmingham, see an unusual group of people meet and take part in an unusual choir.
Most needed help to get here, some are in wheelchairs and others have walking sticks. But it is here that stroke survivors who cannot speak have found their voice - by singing.
One Voice was was set up in 2008 by Lorna Bickley and Katy Bennett as a community choir for people who had suffered strokes. Singing helps recovery of movement, memory, breathing, speaking - and confidence.
The phenomenon was first documented in Sweden in the early 18th Century when a young man who couldn't speak due to brain damage amazed the congregation at his local church by loudly singing along to hymns.
The American Stroke Association reported "the acquired language disorder now called aphasia became a subject of clinical study and a target for rehabilitation beginning in the mid-1880s".
"Since that time, every clinician working with aphasia has seen individuals who can produce words only when singing."
It happens because patients use a different area of the brain from that involved in speech. If a person's "speech centre" is damaged, they can learn to use their "singing centre" instead.
There is even evidence that in some cases singing has helped patients to rewire their brains, repairing some of the original damage.
At Selly Oak, members of the choir have a range of different needs and everyone gets something different out of the sessions.
The atmosphere is uplifting and heart-warming, and it is clear members have become good friends and are able to offer support to one another.
Martin Killeen, his wife Rachel, and little daughter Sophie are among the regulars.
"When Martin was in hospital he just kept singing", Rachel said.
"It was one of the first things that came back.
"We were told there was choir that might help with his speech and so we joined five years ago."
Although his stroke has affected his speech, Martin was keen to reveal how much One Voice had helped him, using words like "teambuilding", "confidence", "first-class" and "great".
Annette Peach and her 10-year-old daughter Courtney have to catch three buses during a two-hour journey from Willenhall to Selly Oak.
Even though they faced the same journey in reverse to get home, and Annette needs a wheelchair, she said she wouldn't have missed the singing because "I love it, it really makes me happy, it gives me a lot of fulfilment".
Like Martin and Annette, Helen Naylon suffered her stroke when she was relatively young; in her case she was 34.
She learned to talk and write again alongside her twins Claire and Tom who were just four years old at the time.
Helen said that thanks to the singing "now I'm nearly sane".
Clare said: "One of mum's friends can barely speak, but she can sing perfectly."
After rousing renditions of Bob Marley's Three Little Birds, Swing Low Sweet Chariot and the South African national anthem, which is sung in different parts, everyone stops for tea, cake and a catch-up.
Originally there were just five members, but now up to 25 regularly take part, alongside friends and carers.
The choir has no external funding and is run by volunteers, but One Voice has been asked to sing at events across the Midlands and has just taken its first Christmas booking.
Related Internet Links
The BBC is not responsible for the content of external sites.