Draining of canal at Gas Street in Birmingham delayed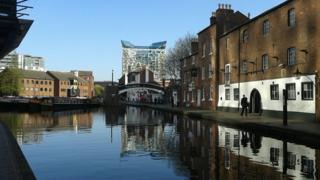 The draining of a leaking canal in Birmingham city centre has been delayed.
The work, on the Worcester and Birmingham Canal stretch between the Mailbox and Gas Street Basin, is taking place because water is leaking close to a railway line.
The project got under way on Wednesday but work was delayed due to a faulty seal on a safety gate.
The route has been closed to boats while the work takes place.
'Quite unusual'
The Canal and River Trust said it had made "every effort" to contact people trying to use the route during half-term.
It said although pumping had started on Wednesday, progress had been slow because one of the seals on the safety gates had failed to operate correctly.
The basin has now been made watertight and pumping resumes on Thursday.
A fish rescue, in which thousands of fish will be scooped out of the water and replaced once the leak repair has taken place, is now due to take place on Saturday.
The leak, which was reported over the weekend, is thought to be going into a railway arch. The railway runs underground, close to Holliday Street.
"We don't know what caused the original leak. It's really quite unusual to have a leak in the bottom of a canal," said Sarah Rudy, from the trust.
Pete Sherwood, the trust's team leader of customer operations, said most people who have boats moored in the area have been contacted.
"Some are happy to let their boats rest on the canal bottom. The boats of those who have not been contacted will be taken away."
The stretch of water links the Worcester and Birmingham Canal to the Birmingham Canal Main Line.
The trust said the work, affecting a 656ft (200m) section, would take at least a month.
---
More canals than Venice?
The Worcester and Birmingham Canal opened between Birmingham in 1795. The connection to Worcester was completed in 1815
Gas Street Basin was once a busy transport hub
However, from 1841 railway competition took away much of the business
The canal-side was redeveloped in the 1990s and is now popular with tourists