Birmingham Snow Hill 'Canary Wharf' revamp plan revealed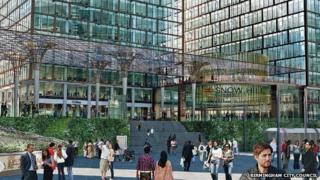 Plans to transform a Birmingham business district in a £1bn-plus scheme will rely heavily on private investment, the council has said.
Birmingham City Council said it wanted to replicate the success of London's Canary Wharf as it revealed proposals for the Snow Hill and Colmore areas.
Council leader Sir Albert Bore said the project would be "almost entirely funded" by the private sector.
The cost of the project to council tax payers would be minimal, he said.
He said the authority would attempt to attract investors from around the world, as well as further investment from developers with existing projects in the city.
The council said the 20-year scheme provides a framework for 10,000 new jobs, more than 200,000 sq m of new office space, and could generate £600m each year for the local economy.
'Further investment'
Under the plans, a new concourse area would be created and new walking routes provided through Snow Hill station.
A boulevard with more pedestrianised areas would be built along the A38 Great Charles Street, while the Steelhouse Lane area would have 4,000 new flats and houses.
Snow Hill station's car park would be replaced with office buildings, the council said.
The project was launched by the council and Colmore Business District (CBD), which represents businesses in the area.
CBD chairman Gary Cardin said a severe shortage of state-of-the art office space needed to be addressed to attract big investors.
Mr Cardin said CBD hoped to work with the council, the Greater Birmingham and Solihull Local Enterprise Partnership and other bodies to bid for government funding.
He said the figure of 10,000 jobs mentioned in the plan was a target rather than a guarantee, and "everybody involved needs to work hard to achieve it".
Council cabinet member for development, transport and the economy, Tahir Ali, said the plan "remained a vision" but was confident it would be delivered.
A public consultation on the proposals will run from 9 February to 23 March.