Walsall Manor Hospital 'declares major incident'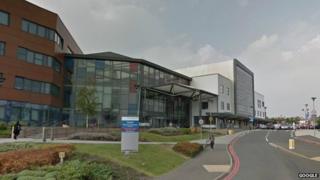 A "major incident" has been declared by Walsall Manor Hospital as staff struggle to cope with demand in its Accident and Emergency unit.
The Walsall Healthcare NHS Trust said some routine operations had been cancelled while outpatient clinics were under review.
Hospital managers are trying to ensure as many staff as possible are available to tackle a backlog in A&E.
The trust said it hoped to open a new 30-bed ward next week.
Walsall Manor is one of several hospitals in England to declare a major incident, which allows managers to call in extra resources when departments are under particular pressure.
Walsall Healthcare Chief Executive Richard Kirby said A&E had been operating at the highest level - Level Four - since Monday morning.
"We have put arrangements in place so that we are able to focus on the priority of ensuring we can care safely for the patients already in the hospital, arrange the safe discharge of those who are well enough to go home and reduce the current long waits for admission in A&E," he said.
Mr Kirby said the hospital was also working with social services and the local clinical commissioning group to make sure people can be discharged as soon as they are ready to leave hospital, to free up beds.