Paradise Circus redevelopment road disruption warning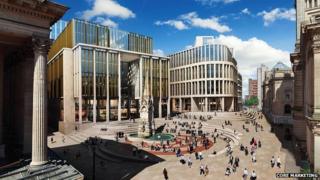 Road closures as part of a £500m redevelopment in Birmingham city centre will cause "significant disruption", the city council has warned.
The work will affect the Paradise Circus Queensway junctions with Broad Street, Sand Pits and Summer Row.
It is part of a project to demolish the old library and create new offices, shops and walkways.
A chambers of commerce spokesman welcomed the work and said businesses would cope with the disruption.
The contractors said "significant disruption and delays" should be expected during the first phase of works, which will last for approximately 18 months.
The project is expected to be completed in 2025 and could create up to 15,000 jobs, the council said.
John Lamb, from the Greater Birmingham Chambers of Commerce, said the area needs redeveloping and there is "no gain without pain".
"When the [road] tunnels [in the city centre] were closed businesses managed to cope - most people will agree that the area needs redeveloping and it will bring jobs to the area," he said.
Four bus routes will be diverted from Monday and lane restrictions for drivers will be enforced from 10 January.
The council is advising people who travel through the area to use public transport "whenever possible".
The project involves turning the Queensway, which currently goes underneath the old library and Birmingham Conservatoire, into a pedestrian-only zone.
Councillor Tahir Ali said: "[The redevelopment] will greatly improve access and connectivity and encourage people to use public transport, cycle or walk around the city centre."
The first phase of the scheme will include demolition work as well as improved road and pedestrian routes.
There will also be infrastructure changes around Chamberlain Square and two new office buildings.