Trojan Horse school 'not making progress' says Ofsted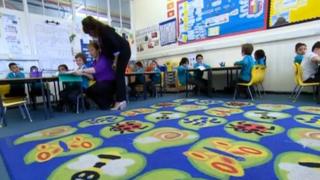 Not enough progress has been made at a Birmingham school placed in special measures after the so-called "Trojan Horse" affair, Ofsted says.
At Oldknow Academy inspectors reported "considerable decline" in some areas of achievement since its April inspection.
As a result of allegations about a hard-line Islamist takeover, 21 schools in Birmingham were investigated and five were placed into special measures.
The watchdog said three of the others are "making reasonable progress".
It published findings from its latest inspections, made in November, at Oldknow Academy, Saltley School, Nansen Primary and Golden Hillock School.
Oldknow Academy was criticised for "deteriorated progress" made by pupils despite a rise in standards in reading and mathematics.
Inspectors said "pupils are not making enough progress in lessons" and the school's improvement plan "is not rigorously followed".
It found a previous concern, that a "particular and narrow faith-based ideology" was being promoted, had been addressed.
The academy was previously rated inadequate overall, and inadequate for leadership and the safety of pupils, but outstanding for its quality of teaching and pupils' achievement.
Nansen Primary School, run by the Park View Educational Trust, was previously rated inadequate for safety of pupils and leadership, while pupils' achievement and quality of teaching was labelled "requires improvement".
Golden Hillock School, run by the same trust, was previously rated inadequate in all categories with Ofsted finding split leadership and reports of staff intimidation.
A spokesman for the Park View Educational Trust said it was "encouraged by Ofsted's latest report and acknowledge how hard our staff are working".
Saltley School was previously rated inadequate in all categories.
In the latest report, inspectors said Saltley School students' inadequate achievement was not yet not substantially improving and the latest GCSE results were significantly below the previous year's.
The report said: "Students currently in the school are also significantly underachieving in every year group, and particularly so in mathematics."
However, the inspector praised the school's reorganised learning groups and extra lessons, including Saturday classes.
The report noted "some improvements to teaching", despite "too many weaknesses in the quality of teaching over time".
A spokeswoman for Birmingham City Council, responsible for the local authority school, said they were pleased to see the school make progress and were "determined" to see it "return to the good school it once was".
'Too little progress'
At Nansen Primary School inspectors reported "steady" improvement in teaching and pupils' behaviour and said "leadership has considerably strengthened".
The report said the interim head teacher had concerns about some of the teaching and management staff and was beginning a consultation ahead of proposed staffing changes.
Golden Hillock School's inspection found "standards remain too low and students make too little progress" despite "significant" staff changes.
Ofsted reported "teaching remains inadequate" and is a "major cause for concern" in some areas, however it praised the leadership for "driving change at a much more rapid pace".
Oldknow Academy declined to comment on the findings.
The Department for Education said the teaching staff at Park View Educational Trust and Oldknow had worked "tirelessly" to resolve deep-seated issues.
It said: "Today's reports show improvements have been made but there remains a great deal of work to do.
"We are closely supporting these schools.
"We remain confident that rapid and effective change will continue so that pupils will be provided with the excellent education they deserve."
Sir Mike Tomlinson, Birmingham's recently-appointed education commissioner, said: "These reports show further improvements are needed at all the schools but it is important to recognise the huge progress made.
"Important milestones have already been reached... and I will continue to work with these schools and Birmingham City Council to ensure we build upon these early signs of success."