Birmingham council flat eco heating costs more, tenants say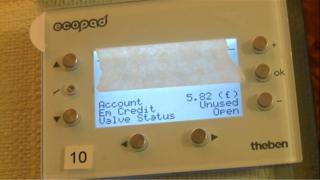 An "eco-friendly" heating system designed to cut household bills in a Birmingham tower block has increased costs, tenants have said.
Contractor Carillion said its communal Ecopod boiler aims to reduce energy consumption and fuel poverty.
But residents in the city council-managed Derwent House, Harborne, said heating their flats was more now more expensive.
Carillion said it had discussed "cost effective" usage with residents.
The council referred requests for comment to the company.
Derwent House tenant Paul Harte said the building switched from electric storage heaters to the gas-powered Ecopod on 8 December.
Since then, he said, his heating bill has risen from £25 per week to £40.
"These aren't mansions, they're only small little flats and shouldn't take that much to keep warm," he said.
Another resident, Iqbal Singh Sanga, said he thought he had been charged for using the system when it was off.
"I've monitored it and noticed when it's on standby it's still charging you over a 24-hour period," he said.
Carillion said the Ecopod, which is set to be installed in a total of 30 city council-managed buildings, had successfully reduced bills in other locations.
A spokeswoman said the company had noted concerns and discussed using the system in a "cost-effective manner" with residents.
"We have calculated billing rates with projected usage over a 12-month period rather than actual usage," she said.
"It is our standard practice to refine this once we have actual usage data available from the residents."
The firm said it had used Energy Companies Obligation funding - provided by the government to energy efficiency schemes - to install Ecopods in Birmingham, at "zero capital cost" to the council.
It supplies flats with heat and hot water from a rooftop "plant room" containing boilers and pumps.