Sharrinder Singh Garcha shot 'trying to cut detective's throat'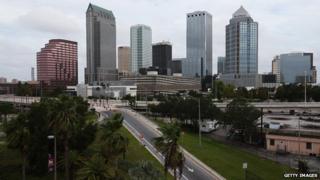 A British man was shot in the head by a US detective after trying to cut the officer's throat, an inquest heard.
Sharrinder Singh Garcha was resisting deportation when he attacked Detective William Gray in October, Black Country coroner Zafar Siddique was told.
The 19-year-old, from the West Midlands, had gone on the run with a teenage girl after being refused entry to the United States.
When the officer alerted authorities, Garcha attacked him with a knife.
The inquest heard Garcha, of Wednesbury, had arrived in the US in October at Tampa International Airport, in Florida.
The coroner's investigator Margaret Collins said he was refused entry because he intended to meet the teenage girl.
Officials confiscated his passport and he was told to return the next day to be deported.
Instead he went on the run with the girl, leaving Florida on a Greyhound bus to travel to Wisconsin - about 1,350 miles (2,172 km) away.
"Once they arrived in Wisconsin they stayed at the address of a female whom he had met online," said Ms Collins.
When police tracked him down in Chippewa County, the girl had disappeared and initially Garcha said he would assist them in trying to locate her.
'Tried to cut throat'
"At the time of the incident Sharrinder was sat in a police vehicle with Detective Gray," said Ms Collins.
"The officer was making attempts for Sharrinder to be collected by Homeland Security so he could be deported.
"At this stage Sharrinder has attacked the officer with a knife and tried to cut the officer's throat.
"The officer managed to remove his gun from the holster and shot Sharrinder once between the eyes and killed him."
Following a post-mortem examination in the US, the inquest gave the cause of death as a traumatic brain injury following a close-contact gunshot wound.
The State of Wisconsin Department of Justice is investigating the shooting.