Commissioner thanks Sutton Coldfield school for Ebola shoeboxes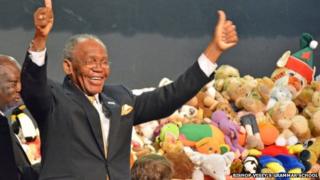 The high commissioner for Sierra Leone has thanked a Birmingham school for giving shoeboxes full of donations to children in the Ebola-hit country.
Edward Turay visited Bishop Vesey's Grammar School in Sutton Coldfield to meet pupils.
The school said its 900 pupils, aged between 11 and 18, had donated hundreds of shoeboxes to Sierra Leone.
More than 6,000 people have died in the Ebola epidemic in west Africa.
Teacher Julie Wadeson said "hundreds" of donations had been collected, including cuddly toys, soap and books.
"What happened was, we rang the Sierra Leone embassy a few months ago and asked if it would be helpful if we had a collection," she said.
"They said an appeal would be very helpful.
"We now have that much stuff, we can hardly move."
Donations were collected by the school from as far away as Hull and Sheffield.
Mrs Wadeson said a company from London was transporting the shoeboxes to Sierra Leone free of charge.
Mr Turay said: "I have never seen the likes of this in my life.
"It's a great gift to Sierra Leone. When they see this in Freetown, it will be great."