Murdered mum Natasha Trevis 'not listened to'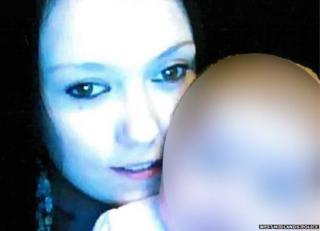 A mother-of-three murdered by her "controlling" partner was "not listened to or heard" by the authorities, a report has found.
Natasha Trevis was stabbed 26 times by Junior Saleem Oakes in August 2012 as she tried to escape from a taxi.
A review into her death found police and social services in Birmingham had not dealt effectively with her complaints about his abusive behaviour.
Police said their approach to domestic violence cases had "radically" changed.
The report, by Birmingham Community Safety Partnership, found Oakes had come to the attention of West Midlands Police 25 times before the murder, including for a string of offences against his ex-partner and her family.
Evidence of his "escalating repeat offender behaviour" had been recorded since 2003, it said, but information on his background had not always been shared between different agencies.
Services provided to 22-year-old Miss Trevis and her three children, fathered by Oakes, were "not effective in keeping them safe", according to the report.
It found some decisions had been "seriously flawed" and professionals had not fully understood Oakes' "volatile" nature when assessing Miss Trevis' situation.
The victim's family, who contributed to the report, said they believed "agencies had not taken the threat that the perpetrator posed to the victim seriously".
Joanne Hewitt, Natasha's mother, told BBC News: "I just feel like I'm in a world of my own."
She said if they had been made aware of his history of domestic violence she could have saved her daughter.
"I feel like it's outrageous. If we would have been told his background then we could have saved my daughter."
'Let slip'
The report concluded it might have been possible to prevent Miss Trevis' death, as "there were missed opportunities... to intervene when risks to Natasha's wellbeing should have been apparent".
"The overall conclusion has to be that the victim, who had reported her fears and concerns, was not really listened to or heard by the agencies," it said.
An allegation that a social worker had "let slip" to Oakes that Ms Trevis had aborted their fourth child, five days before she was murdered, was "still under investigation", the report said.
West Midlands Police Assistant Chief Constable Garry Forsyth claimed the force had since "embarked on a radical change in their response to domestic violence".
This included "better use of all our systems to enable us to be more effective in alerting officers to a domestic abuse threat or someone at risk", he said.
Since Miss Trevis' death, he said, a multi-agency safeguarding hub (MASH) had been set up in Birmingham to improve information sharing.
Mr Forsyth said 79 actions recommended by the review had been implemented.
Oakes, now aged 30, admitted Miss Trevis' murder last January and was given a life sentence with a minimum jail term of 22 years.