Smethwick smoke-affected primary school shut for second day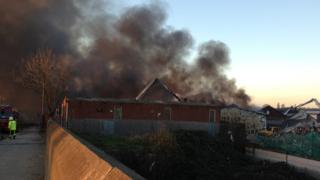 A primary school in the West Midlands is closed for a second day due to smoke from a fire at an industrial unit.
The fire service said there are still hot spots burning after the fire on the Middlemore Industrial Estate in Smethwick which broke a week ago.
Wattville Primary School said smoke and fumes which may prove to be an irritant to pupils and staff are blowing directly across the school grounds.
The school hopes to reopen on Thursday, according to its website.