Birmingham town hall's artist's vision displayed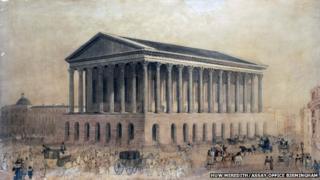 A 19th-century painting showing how the town hall in Birmingham was expected to look has gone on public display.
The original artist's impression, painted in 1831 by watercolourist W Harris, was part of Hansom and Welch architects' bid for the contract to build the hall.
The picture also illustrates their ideas for the rest of the city, with surrounding grand buildings.
The design was based on the Roman temple of Castor and Pollux.
Town Hall Birmingham was built in 1834 and is one of the oldest surviving concert halls of its size in the world.
It was intended as both a venue for the Triennial Musical Festivals as well as to serve "the general purposes of a town hall".
Professor of history at Birmingham University Peter Marsh said: "This watercolour expresses the civic vision of the leaders of Birmingham long ago when it was bursting on to the economic and social landscape of England but still lacked recognition in the governance of the country.
"The leaders of Birmingham in the 1830s wanted to stake out a two-fold claim for their town - that it was a cultural centre of European distinction and was, at the same time, eager to set the pace of political reform in Britain."
Then 27, one of the architects, Joseph Hansom - who later invented the Hansom cab - took on the financial responsibility of the building, which bankrupted him.
The painting, which has been given to the hall on permanent loan by Birmingham's assay office, will be on display for organised tours, with an exact copy hanging in the building's lobby which can be seen by the public during opening hours.