Supreme Cat Show contest at Birmingham NEC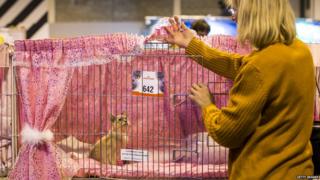 More than 800 cats have gone on show at Birmingham's NEC in what is described as the feline equivalent of Crufts.
The Supreme Cat Show is one of the largest cat competitions in Europe.
The event began more than 30 years ago and features categories including Persian, Semi-Longhair, British, Oriental and Siamese.
This year's overall champion, awarded the title of Supreme Exhibit, was Premier Pinemarten Tina Sparkle (pictured below), a British Lilac Tortie, owned by Penny Hopgood.
Victoria Lill and Philip Burk, from Hull, entered their sphinx cat Dotty (pictured above) for the first time this year, where she placed second.
They said Dotty, whose show name is Adzwosh Darling Doris Day, could be quite high-maintenance.
"Your heating bills go up when you have a Sphinx cat," they said.
"They eat a lot and can be very time-consuming, with all the cleaning."
Sam Moyle, from Chard, Somerset, gave her Tortoiseshell/tabby Persian Pruby Doo (pictured above) the show name Leadpruuf, after she survived lead poisoning.
"We brought her here to show how well she's doing," she said.
"She got so ill I said 'goodbye' to her at one point, but then the vet phoned to say she was standing up."
Kirsty Johnson, from Southport, was showing her Chocolate Smoke Persian Sugartump Supremo Disaronno (pictured above).
She said grooming the long-haired cat to get him show-ready was a lot of work.
"It's constant, everyday you're brushing them," she said.
"You have to do at least 20 to 30 minutes a day."
Show veterans Anne and Michael Harrop, from Chorley, Lancashire, have been showing cats for 30 years.
They take their red exotic male Persian, Flame, also known as Grand Champion Shakira Fiamferro (pictured above), to shows around the UK every few weeks.
But the Supreme Cat Show is the big event in any cat fancier's calendar, they said.