Birmingham 'exploitation' order: Two more men banned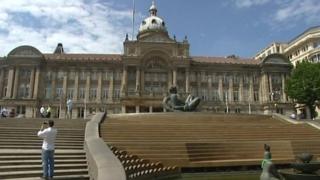 Two more men have been banned from contact with young girls in an "innovative" High Court case to prevent child sexual exploitation.
Mr Justice Keehan granted long-term injunctions against Rahman Aziz, 34, and Sarfraz Riaz, 32, after Birmingham City Council raised concerns about a "vulnerable" girl in its care.
The judge also ruled Imran Uddin, 19, the subject of an earlier injunction, could be named.
Earlier he issued bans against six men.
'Hotel rooms and cars'
He is due to hear more evidence against a 10th man at a hearing later in the month.
The Family Division of the High Court in London heard the 17-year-old girl was found in hotel rooms and around cars with men, by police in Birmingham.
The council began the proceedings against 10 men, with the aim of protecting young people who may not understand what was happening to them.
Both Aziz and Riaz are in prison convicted of offences unrelated to the girl, who cannot be identified.
The judge has ruled the men, who were the subject of orders could be identified, despite objections by police who raised concerns about their safety.
On Wednesday, he granted injunctions against Mohammed Anjam, 31, Omar Ahmed, 27, Naseem Khan, 29, Mohammed Javed, 34, Shah Alam, 37, and Sajid Hussain, 40.
---
Analysis: Michael Buchanan, BBC News
This is undoubtedly a creative way to try to protect children from a council whose recent history is littered with child protection failures.
Unable to gather enough evidence to pursue criminal charges, but desperate to protect vulnerable children, councils have often sought to place the child in secure accommodation. That is often seen as punishing the victim as they are taken away from their own community, having already been sexually exploited.
Seeking injunctions through the civil courts, where the burden of proof is lower than in criminal trials, has therefore allowed Birmingham to put the men on the back foot.
But if any of the men are attacked, or their identification leads to community tensions - both fears were expressed by the police in court - the rationale behind what is currently seen as an innovative legal approach, and one that is being eagerly watched by other councils, could lead to some serious questions for Birmingham City Council.
---
None of the men have been convicted of any criminal offence in relation to the teenager.
But the judge's order bars them from approaching her until she turns 18.
It also bars them from approaching "any female under 18", with whom they are not personally associated, in public places.
Lorna Meyer QC, for the council, said social services and police had identified a "number of individuals" found to be behaving "inappropriately" in the company of the girl.
Lawyers thought there was not enough evidence to secure criminal convictions - on a beyond reasonable doubt basis - "at the current time".
But they thought there was enough evidence to obtain civil court injunctions - on a balance of probabilities basis.
Social work managers said by bringing civil court action, officials had not had to rely upon the victim giving evidence.
Miss Meyer said if long-term injunctions were made, and any of the men were found "in the company of a vulnerable child" in breach or orders, then lawyers would ask a judge to impose jail terms for contempt of court.