Stan Amos' West Bromwich Albion medals auctioned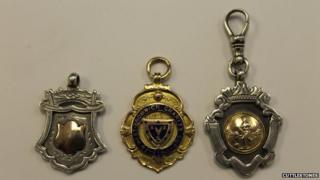 Three rare West Bromwich Albion medals belonging to footballer Stan Amos have fetched £900 at auction.
The medals relate to a defunct Midlands tournament played in the 1920s, when the Baggies had one of their most successful ever teams.
The auction house, based in Wolverhampton, said the lot had attracted a lot of interest.
"The medals came from a time when West Brom was one of the top teams," said Richard Forrester, salesroom manager.
'Oldest teams in football'
The lot was estimated to be worth £500-£800 by auctioneers Cuttlestones.
It included a 9ct gold medal, inscribed with the words "1924 Winners" and Mr Amos' name.
The medals dated from the West Bromwich Charity Cup, in which the Baggies played local rivals Wolverhampton Wanderers, Aston Villa and Birmingham City.
They were auctioned together with two other hallmarked silver medals and an original team photograph of the West Brom side featuring Mr Amos.
The memorabilia was given to a relative of Amos several years ago. She had recently rediscovered the medals and had decided to sell them.
According to contemporary newspaper reports, Amos played for West Bromwich Albion's reserves in 1924.
"We believe Stan Amos was a fringe player who had a brief spell in the team before moving to Gillingham," said Mr Forrester.
"West Brom are one of the oldest teams in football and there were a few Baggies fans who were interested in the medals."