Mother wakes from 19-day coma after losing twin girls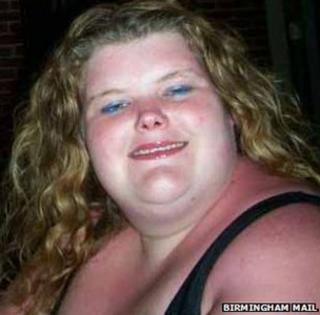 A woman from Birmingham has come round from a coma 19 days after prematurely giving birth to twins who later died.
Jocelyn Bennett was 32 weeks pregnant when she called an ambulance to her home in Pleck House on 29 October because she was suffering severe pains.
Emergency crews were unable to access the flats and had to call the police.
Ms Bennett's father, Joe, said he had not yet told his daughter about the death of her girls but was prepared to if she asked.
'I love you'
He said the family feared the worst on Friday when she began shaking and her temperature went up but she later showed signs of waking over the weekend.
"We went to see her yesterday and she was lying there peacefully and we spoke to her and she opened her eyes," he said.
Mr Bennett said his 27-year-old daughter was still unable to speak and communicated using letters picked from a board.
"The first thing she said was 'I love you'. Everybody started crying," he added.
Paramedics arrived at 05:51 GMT but called police at 06:03 as they could not get into the building.
Officers arrived seven minutes later enabling them to get inside and up to the third floor to help Ms Bennett.
Her twins were delivered by emergency Caesarean in hospital, but later died suffering brain damage through lack of oxygen.
Mr Bennett said his daughter lost two litres of blood and her heart stopped for about 10 minutes.
When he visited his daughter in hospital on Monday, Mr Bennett said she tapped out: "What went wrong?"
He said he "skated round" the details a bit to spare her until she was stronger.
The twin girls were christened Rose and Melody before their deaths at Birmingham Women's Hospital.
"If she asks, I'll make sure nurses are around in case something happens and I'll sit down and I'll gently tell her what's happened," Mr Bennett said.
He described his daughter's condition now as stable but that she had "a long way to go".
He said that she is having dialysis for her kidneys, one of her lungs is infected and she has a tube in her throat to help her breathe.
Birmingham City Council said it was investigating what happened and there were systems in place to provide emergency access to blocks of flats for emergency crews.