Sparkbrook teenage bus arsonists detained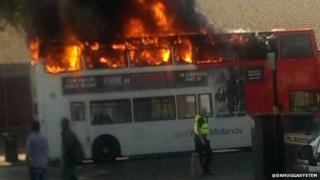 Two 16-year-old boys have been given two-year detention orders for setting fire to a bus in Birmingham.
The teenagers, who cannot be named because of their ages, pleaded guilty at Birmingham Crown Court to causing arson with the intent to endanger life.
The double decker, which had passengers on board, was set alight in the Sparkbrook area in June.
CCTV showed the fire take hold after the pair ripped up newspaper, sprayed it with deodorant and lit it.
No-one was injured in the blaze.
The boys have been given two-year detention and training orders, the first half of which will be served in custody at a young offender institution and the second half in the community.
A 59-year-old man was sentenced to six months in prison for perverting the course of justice. A 49-year-old woman who had previously faced the same charge had it dropped.
Det Con Emma Owens from West Midlands Police said: "We believe the motive behind the fire was that the youngsters were unhappy about being challenged over their fare.
"The boys' reaction was way over the top and not only did their actions cause a huge amount of damage to the bus, but they also put peoples' lives at risk."