'Double crowd' at Brunswick Park fireworks injuries event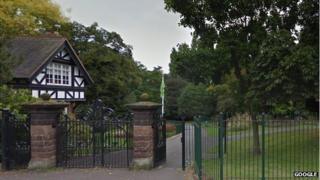 Double the usual crowd went to a fireworks display at which three people were hurt when a firework went into the crowd, a council said.
Sandwell Council said it had not been expecting 12,000 people at the event at Brunswick Park in Wednesbury.
A 23-year-old man was taken to hospital and a seven-year-old girl and a 47-year-old man were treated by St John Ambulance staff for minor injuries.
The council said it delayed the start of the fireworks to push people back.
'Rogue firework'
Councillor Maria Crompton, cabinet member for highways and environment, said: "There were so many people. They were coming forward and so we had to delay the fireworks starting (until) we felt that we'd pushed them back to outside the cordon so that we could actually start.
"But at the end of the day you can't account for a rogue firework, shall we say?
"People were actually very good but obviously we didn't start the fireworks (until) we felt we had pushed the people back far enough."
She said she presumed the large crowd was due to a combination of the event being free and "a well publicised event" and it being "a nice evening".
"I'd like to reassure people that we have an excellent safety record for our bonfire events and our displays (on Friday) at Dartmouth Park in West Bromwich and Victoria Park in Smethwick are going ahead as planned.
"We've got measures in place to deal with the huge number of people we're expecting, particularly at Dartmouth Park which is usually a paid-for event."
She said the council was "thoroughly investigating exactly what happened" at Brunswick Park.
On Twitter, Rebecca Maybury said it was a "shambles".
She said: "Staff couldn't move the crowd back & started the display anyway."
Sarah-Jayne Rollason also tweeted that "the organisation of Brunswick Park for the fireworks is abysmal at best".
Kirsty Amy tweeted to say she enjoyed the display and @hunty_5 said the turnout was "great".
Nine people needed treatment throughout the course of the event, but only three were as a result of the firework going into the crowd, West Midlands Ambulance Service said.