Yardleys School reopens after warehouse arson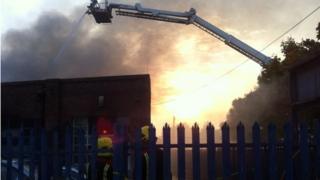 A Birmingham school has reopened after being closed for five weeks following an arson attack on a nearby warehouse.
Yardleys School in Tyseley was shut amid fears of asbestos contamination from the fire on 29 September.
The city council advised the school to reopen on 10 October, but the head teacher requested written confirmation the site was safe.
During the closure more than £60,000 has been spent on coaches to take students to nearby schools.
More than 1,000 students had to be bussed elsewhere and take online lessons.
Last week governors said agreements on cleaning and monitoring had been reached with the council.