Birmingham to New York daily flights start in May 2015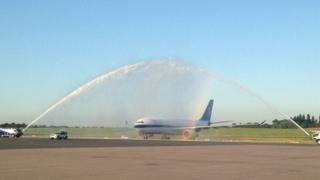 Daily flights from Birmingham Airport to New York are set to begin in May.
The direct flights by American Airlines will operate between Birmingham and John F Kennedy Airport (JFK), officials confirmed.
Paul Kehoe, Birmingham Airport's chief executive, said the region was a major tourist destination for Americans.
The first flight will arrive from JFK on 8 May at 07:10 BST and depart for a return leg at 10:00, arriving in New York at 12:55 EST.
Suzanne Boda, American Airlines senior vice-president for Asia, Canada and Europe, said: "Adding Birmingham to American's growing global network is an exciting development.
"Tourists from the US will have closer access to a wide range of attractions in the Midlands while business travellers will also be rewarded with greater choice when flying across the Atlantic."
The airport opened its £40m extended runway in July which marked the launch of a new route to China, the only direct air route between the UK and China outside London.