'Real Birmingham family' statue unveiled outside library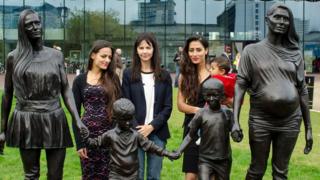 A statue by Turner Prize-winning artist Gillian Wearing has been unveiled outside the Library of Birmingham.
The sculpture, entitled A Real Birmingham family, was revealed at a ceremony at 11:30 GMT.
It depicts sisters Roma and Emma Jones - chosen from hundreds of applicants to represent the city - with their sons Kyan and Shaye.
Ms Wearing said she wanted to convey the idea of what "constitutes a family isn't fixed".
Roma Jones said she was "so proud" of the statue and thought the boys "look amazing".
Sister Emma said: "It's amazing to be representing so many different kinds of family from Birmingham - I'm really happy with [the statue]."
Gillian Wearing
She was born in Birmingham in 1963
Won the Turner Prize in 1997
Elected as a lifetime member of the Royal Academy of Arts in 2007
'Very talented'
Ms Wearing said she liked how the sisters spoke of their "closeness" and "supported each other".
"It seemed a very strong bond, one of friendship and family, and the sculpture puts across that connectedness between them.
"A nuclear family is one reality but it is one of many and this work celebrates the idea that what constitutes a family should not be fixed," she said.
Nigel and Angela Passey said they didn't feel the statue represented a "typical" Birmingham family and were concerned by the absence of a dad.
"To me, that doesn't portray a family as it should be," she said.
Nigel added: "It only shows one part of a family - the man had to have been involved at one point."
Lighting designer Kate Morley said she thought sculptor Gillian Weaver was "very talented."
"You can tell instantly the statue is based on the two sisters," she said.
"It really does look like them."